Knowledgebase | Email
1. How do I get an email address on my new domain name?
To get an email address working on a domain name, you first need to assign the domain name to the domain name system on the internet.
If your domain is using or default ns records, we create an account for you on our server and once the name resolves to the new server's IP address, you can create an email address by using the cPanel® for your webhosting account.
2. If I register a domain name, how many email addresses can I have?
You can have as many email addresses as the type of web hosting account you have will allow. Our web hosting accounts typically provide for the needs of most small companies.
If you want to use an external email provider like Runbox, Gmail or Fastmail, you can use our complimentary hosting plan to create the DNS entries your mail provider will need for the domain to resoove to their email service.
3. If I register a .com.au domain name, and I select a complimentary hosting plan, how many email addresses can I have without paying anything more?
You can have two (2) email addresses with every complimentary hosting account.
4. How do I setup email on my iPhone?
Although most of the email settings are identical, the iPhone requires a special setting for the incoming and outgoing mail servers. Instead of using the defaults that are typically used in the email settings replace mail.yourdomain.com with the IP address of your hosting account. This can be found with your cPanel login inside of the domain management panel at Whois®.
If you are unsure of your IP address, just login to your cPanel and look in the left hand side of your cPanel in the area marked Stats. If you still can't find the IP address for your hosting account, then lodge a ticket and one of our support staff will be happy to find it for you.
Step by step mail setup for the iPhone
1. On the Home screen, Select Settings > Mail , Contacts, Calendars.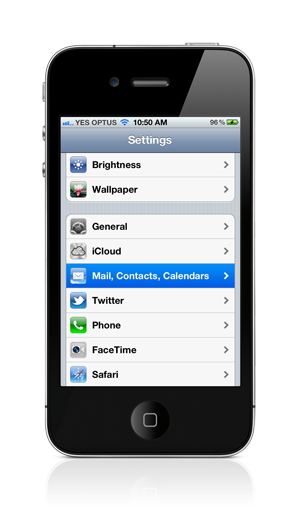 image: iphone - select settings
2. In the Accounts area, select Add Account...
image: iphone - add account
3. Select Other.
image: iphone - select other
4. In the Other area, select Add Mail account.
image: iphone - add mail account
5a. Enter your name (this will show in the from field) and your full email address.
5b. Enter your email password and description (use your full email address as your description)
6. Press Next.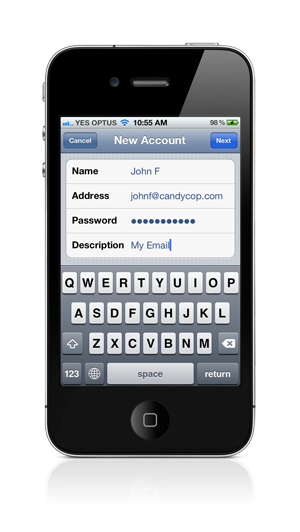 image: iphone - press next
7. Select POP.
image: iphone - select POP
8. In the Incoming Mail Server area, enter your server's IP address as the Host Name.
9. Enter the full email address as your User Name.
10. Enter your email password and then scroll down.
11. Enter the same information under outgoing Mail Server.
12. Press Save.
image: iphone - press save
You should now be ready to send and receive emails with your iPhone.
image: iphone - ok to send.
5. I'm getting errors on my iPhone, saying "Too many connections", how do I fix it?/h6>
The iPhone has a function called PUSH and when it is enabled it keeps the connection to your mail server open and that then causes issues for other people on the same server. Please take a look at the instructions from Apple.
6. POP or IMAP?
You should always use POP on your primary machine or device. This is so that you download all of your email to your machine instead of leaving it on a server.
7. I'm not able to send email, yet I was yesterday..any ideas?
Perhaps your ISP has recently changed their network/SMTP policies.
Check if you're using port 25 or 26 to send your email. If using port 25, try port 26 as many ISPs block port 25.
Another possibility is that if you're using IMAP instead of the recommended POP, you may have reached your disk quota.